If we had to pick one thing we look forward to most around the holidays, it would have to be the steady stream of cocktail parties! Relaxed, low-pressure and full of our favorite things—drinks and mini bites—cocktail parties are pretty much the best thing that's ever happened to entertaining! Whether hosting or attending, we're always looking to spice things up with new bite-size recipes perfect for a cocktail party setting, and these tasty little cranberry brie croustades from Gourmet by the Bay have been our go-to this holiday season. Easy to prep ahead of time, these festive treats are sure to make waves at your next gathering! Happy entertaining!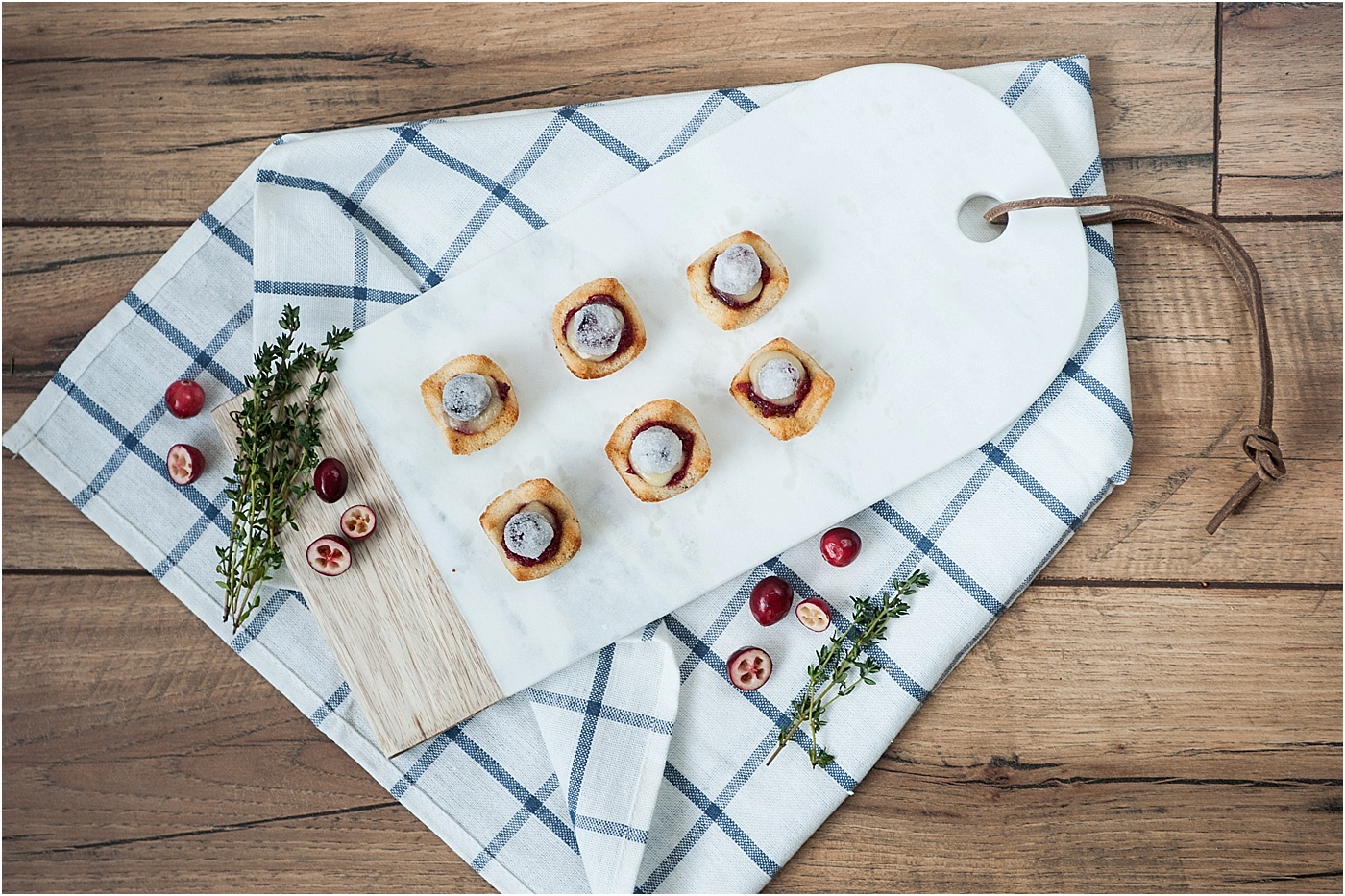 Sugared Cranberry:
1 bag of whole cranberries
Egg white of one whole egg
Sugar
For the croustade:
White loaf bread
Olive oil
Salt and pepper
For the filling:
1 orange
1 lemon
½ whole vanilla bean
1 ½ cloves
2 cups sugar
1 ½ bags whole cranberries
For the brie:
Brie de Meaux, or other international brie
Cut into squares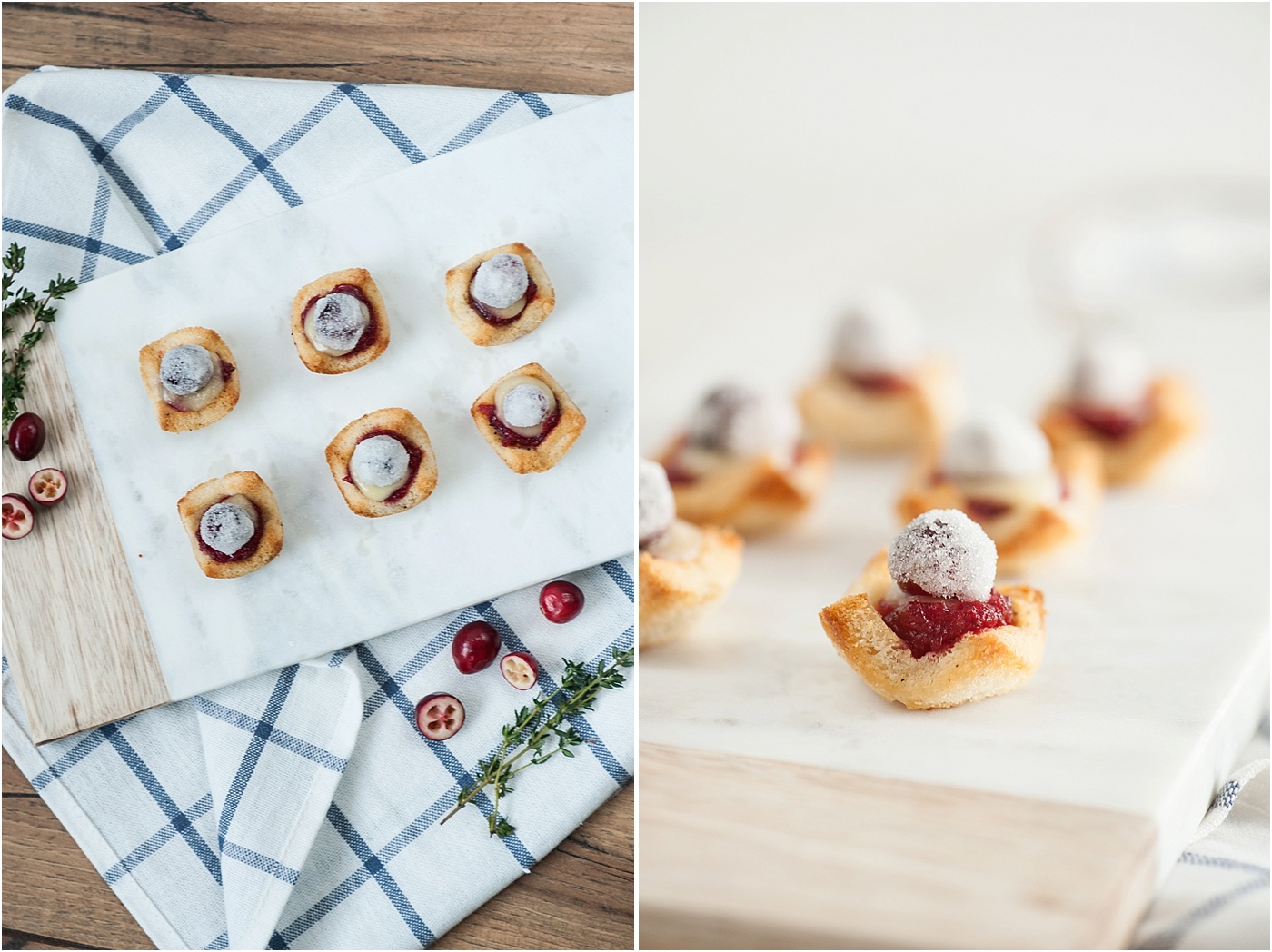 First, make cranberry orange relish. Zest the orange and lemon completely. Blanch the zest in boiling water, then cool. Caramelize the sugar and then add the vanilla bean, cloves and blanch zests then stir well. Add the whole cranberries and let boil on low until cranberries pop and it becomes the consistency of loose jam. Pour into metal container and refrigerate to cool. Should have a thick jam consistency once chilled. Store in airtight container and it will last for months. If you are unable to make cranberry relish, use a packaged version that provides a tart jam flavor.
Next, make sugared cranberries. (One egg white to one bag of cranberries) Put egg white in bowl and whisk until frothy. Toss in bag of cranberries and coat well. Remove from egg whites and roll in pan with sugar until coated. Let dry for 12 hours or overnight uncovered on baking sheet.
Cut white loaf bread into small squares without crusts (one slice of crustless bread makes 4 squares). Brush with olive oil and season with salt and pepper. Place into mini muffin tins so the center is on the bottom and the edges point upward. Bake at 300 degrees for 10-15 minutes or until golden brown. Cool. Can be held in airtight container for several days.
Cut brie into small squares so they fit into the bread croustades.
To assemble, place a dollop of cranberry relish in the bottom of the croustade. Top with brie. Bake at 300 degrees for about 2 minutes, until brie melts. Remove and top with sugared cranberry. Let cool slightly before serving.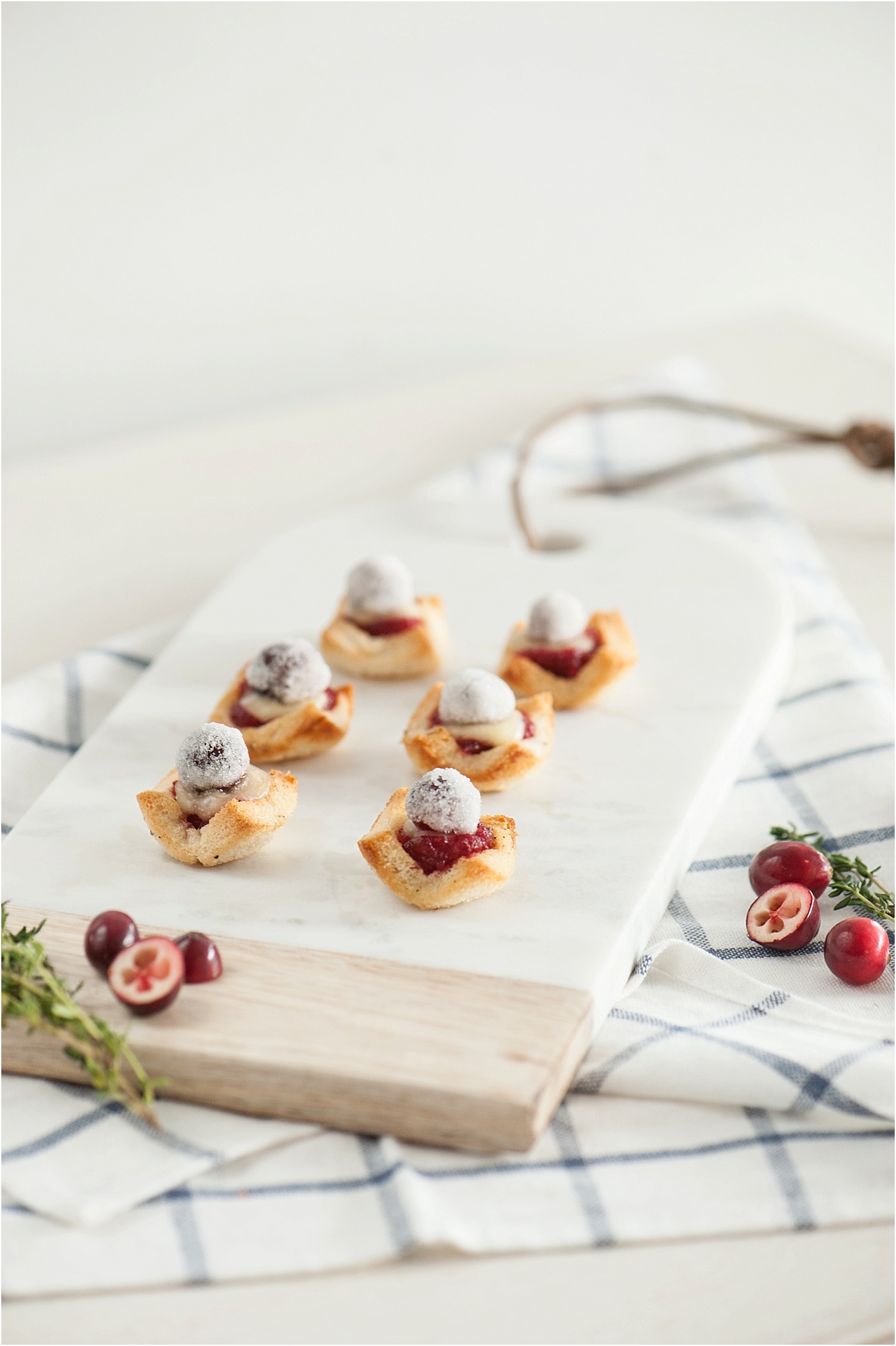 Vendors:
Photography: Melissa Grimes-Guy
Styling: Kari Rider Events
Recipe: Gourmet by the Bay